Personal Capital Review – The Free Tool User Guide
This article may contain affiliate links, meaning we may receive a commission if you make a purchase through one of our links, at no cost to you. The Ambitious Dollar is reader-supported and only recommends products and services that we believe in. Read our full disclaimer here.
Short on time? Here's what you need to know about Personal Capital
Whether or not you want to actually invest with Personal Capital, even the average DIY investor would struggle to find a better cohort of free financial management tools.
What is Personal Capital?
First things first, it's important to understand exactly what Personal Capital is. Personal Capital makes significant efforts to avoid classification as just a robo-advisor. Why? Because there are two primary ways you can utilize what they have to offer.
The first way is by simply using any of their free and robust tools. Just to name a few, their free-to-use financial management toolbox includes:
Cash Flow Management
Budgeting
Portfolio Allocation Tracking
Retirement Fee Analyzer
In our humble opinion here at The Ambitious Dollar, the best free tool they offer is the net worth tracker. This tool allows you to view and manage all of your finances from a simple, easy to operate dashboard.
The second way you can utilize Personal Capital is to invest with their digital asset management services which also includes personalized advice from financial planners. A full article on Personal Capital's investment services is coming soon.
But whether or not you plan to invest with Personal Capital, even the average investor would struggle to find a better assortment of free financial management tools in one place. Here's a rundown of each of them.
How to get started with Personal Capital
Setting up a new account is quick and easy. You'll create a login, password, and answer some simple questions like when you plan to retire and how much you currently have invested.
2. Step two: link your accounts
This step takes a bit more time, but makes it all worth it – we promise. Personal Capital is more well known for its tools which analyze investments, but the more accounts you link (bank accounts, credit cards, loans, etc), the more tools, data, and analysis you'll have at your fingertips.
You can link just about any financial account with online access to Personal Capital, including:
Credit Cards
Bank Accounts

Checkings, savings, money market accounts, etc

Loans

Personal, student, auto, etc

HSAs
Retirement Accounts

401k, 403b, TSP, IRA, etc

Mortgages
You even have the option to include your home's value. Personal Capital can add in your estimated home's value through an established connection with Zillow.
Personal Capital is synced with thousands of different financial institutions. At this stage of the setup process, you'll see some of the most common institutions listed for easy access. But if you don't see yours right away you can easily type in the name of the institution to search for it. In the rare situation that one of your accounts cannot sync with Personal Capital, know that they are continuously striving to add new partnerships and you can add yours in manually for the time being.
3. Step three: adjust your settings
There are a few important settings to call your attention to so you can get the most out of what Personal Capital has to offer.
Email subscriptions

You can opt to receive daily, weekly, or no updates on things like your income, investments, and bills
Decide whether or not you want to receive any educational content and/or wealth management and advisor communication

Cash flow settings

Choose whether or not you'd like to exclude investment income, dividends, and advisory fees from Cash Flow & Budgeting. Don't sweat too much over this decision – if you aren't sure, you can always change it in the future. You may have different investments for different purposes, but generally income and dividends from long term investments (i.e. for retirement) would be reinvested and would not be counted in your cash flow or budgeting.

Security settings

We all know security is tremendously important, especially when it comes to safeguarding your financial assets. So, it's nice to know that Personal Capital gives you a number of options to choose from. This section is also beneficial to manage multi-factor authentication as well as to control the authorized devices which can access your account.

Profile settings

Here's where you can manage details that might impact Personal Capital's analysis of your investments and net worth. For example, keeping your investment income up to date, retirement goals, and spousal information.
Now that you're set up, let's get to the good stuff with a review of Personal Capital's suite of free tools and how you can use them.
Overview
Personal Capital lumps the most commonly used and handy tools under the Overview tab.
Dashboard
Once you've signed up with Personal Capital and linked all of your desired financial accounts, the home screen on the website will present as your Dashboard. Your Dashboard, as the name would suggest, allows you to see most everything about your finances in one spot. You'll see everything including your net worth, budgeting, transactions, cash flow, portfolio balance, retirement savings, emergency fund, debt pay-down and more.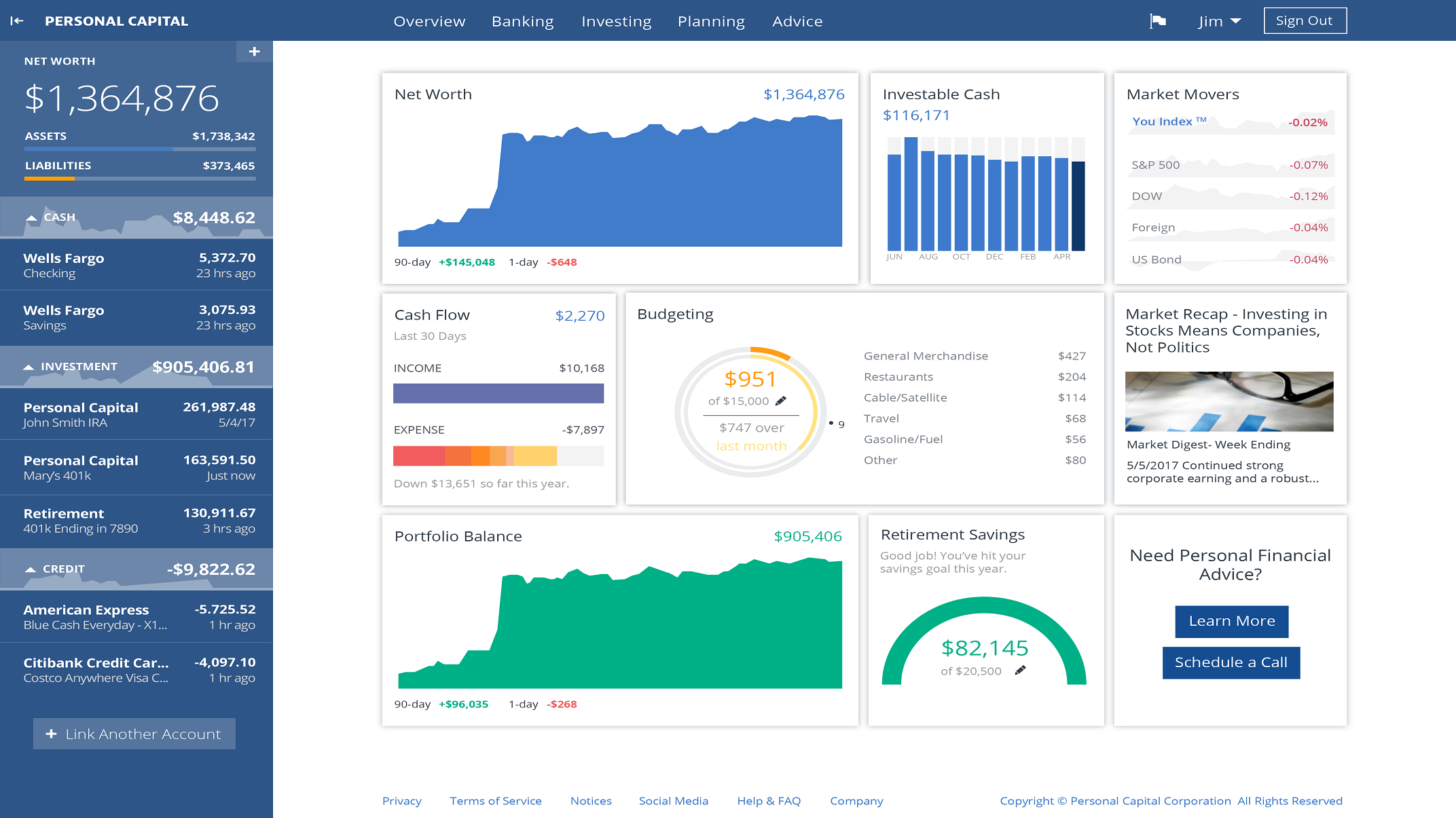 Net Worth
While there's a small snapshot of your net worth in the dashboard, you can see much more by expanding this tool. If you're new to tracking your net worth, or not sure about the benefits in doing so, you can check out our full article on the topic here.
What's so great about Personal Capital's way of tracking net worth? First and foremost, all of your financial accounts are synced automatically, so you'll always have the most up to date information. Additionally, the amount of filters with which you can use to understand and analyze your net worth is fantastic. Want to see your net worth change over 30 days, 90 days, a year, or all time? Easy. Want to filter your net worth to segregate data solely on your cash, credit, investments or loans? Done.
Transactions
This category is likely pretty explanatory. Just like the net worth section you can filter and analyze the data here until your heart's content. If you've read any articles here at The Ambitious Dollar, you know we love to reiterate that if it can be measured, it can be managed. We also love simplicity. The fact that you can view all of your transactions so easily, all in one place, next to so many other helpful tools, there's almost too much to love.
Banking
The next main category of free tools on Personal Capital can be found under the banking tab.
Cash Flow
The Cash Flow section is also pretty self explanatory. It will show you all the income and expenses associated with your linked accounts. You can view both income and expenses together or display just one at a time. A nice feature is the auto categorization of income and expenses which can allow you to more easily spot trends over time. Filter until your heart's content.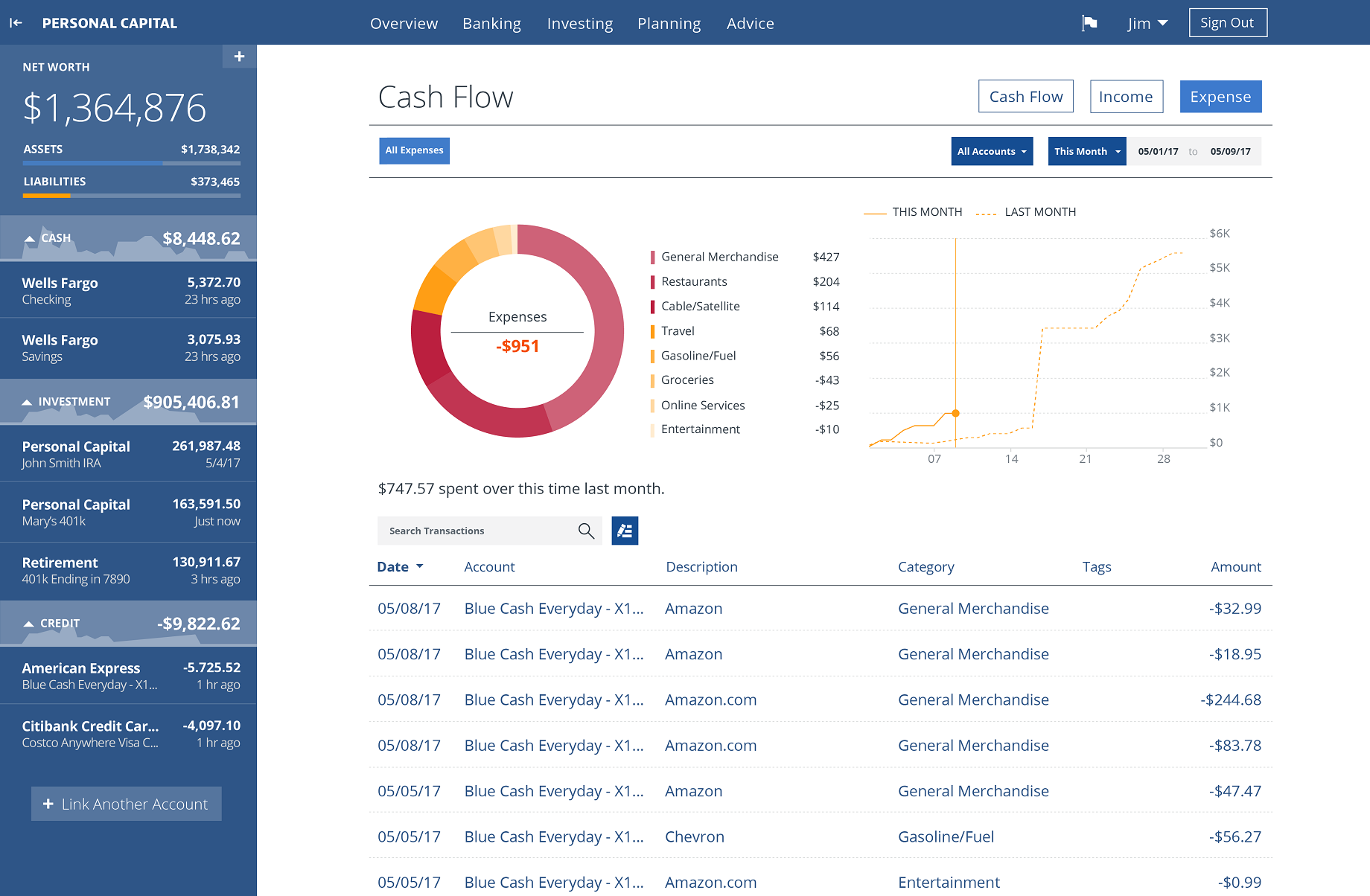 Budgeting
While you won't see as much in-depth customization as other strictly-budgeting apps can provide, you can still garner some good insight with Personal Capital. Whether you choose to set monthly budget limits or not, you'll be able to assess your spending in specific categories month over month. The auto categorization feature does a pretty good job of assigning income and expenses correctly, but you may still need to adjust the occasional transaction.
Bills
The bills tool comes in handy to see all of your bills in one spot – credit cards, mortgages, loans, etc. You may even find this section handy when developing your budget or determining a good emergency fund threshold. You'll also find easy hotlinks to take you directly to any of your bill websites to make payments directly.
Investing
The next category of free tools is nested under the investing tab.
Holdings
What are holdings? Holdings are simply the contents of an investment portfolio held by an individual or an entity – basically these include things like investment products, stocks, bonds, etc that make up your portfolio. So this section of Personal Capital shows you all the relevant details of your holdings including:
The name of each investment and its corresponding ticker symbol
How many shares you own of each
The current price
The day's change (in both dollars and as a percentage)
The total value of your portfolio and each subsection
You can also use an interesting comparison tool which shows the performance of your holdings against other metrics like the S&P 500, the bond market, and a few others.
Balances
The Balances section is relatively simple, but also provides a nice visual representation of your entire portfolio. You'll see the cumulative balance of all of your investments here and can filter the time span to see changes in the balances by percentage or dollar amount.
Performance
Slightly different than what you'll find under the Holdings tab, the Performance tab shows you the actual performance of your portfolio. You'll find the data categorized to show each investment's cash flow, income, expenses, prior day percentage change, and a longer term (customizable, but defaulted to 90 days) percentage change.
And just like under the Holdings tab, you'll have the ability to compare your portfolio's performance against other metrics and markets.
Allocation
If you appreciate good graphics and visual representations, then you'll love the allocation section. Here you'll find a great visual representation of all the asset classes which make up your portfolio. These asset classes will likely include things like:
Cash
US Bonds
International Bonds
US Stocks
International Stocks
Alternatives
Setting and maintaining proper allocation for your investment portfolio is essential to help you meet your goals. And the more you know, the better decisions you can make.
US Sectors
The US Sectors tool allows you to see the composition of your US stocks and bonds in even more detail. It breaks down your holdings into numerous classifications including things like:
Communication services
Energy
Financial services
Healthcare
Industrial
Technology
Utilities
Planning
The final tab of free tools Personal Capital offers is found under the Planning tab.
Retirement Planner
Here you'll find an opportunity to input some of your retirement, savings, and goal information to assist Personal Capital in evaluating whether or not you are on track or need to make some adjustments. You'll need to input some details such as:
The year you were born
Current invested assets
Annual savings
Risk tolerance
Age you wish to retire
Predicted social security
The nice thing about having your financial assets linked is that Personal Capital allows you to either input the above factors manually or allow it to utilize the data based on your synced accounts. For example, it can estimate your annual savings based on previous months or years of your savings transactions. It can also incorporate your currently invested assets as well as predict your social security.
After you've completed your initial setup and made any adjustments to your liking, Personal Capital will run 5000 Monte Carlo simulations accounting for things like:
Expected return
Volatility
Tax rules for tax-deferred, taxable, and tax-free accounts
You'll then end up with an analysis which shows you the likelihood of meeting your retirement goals, how much you'd feasibly be able to spend each year in retirement, and if there are any suggested modifications that could increase your chances of meeting your goal.
Is Personal Capital's Retirement Planner Accurate?
In a nutshell, this section shows you whether or not you're saving enough for retirement and if you aren't, it provides you with some suggestions to increase your chances of getting there.
It is important to keep in mind that none of this advice is a guarantee, but it is based on lots of sound data and historic market information.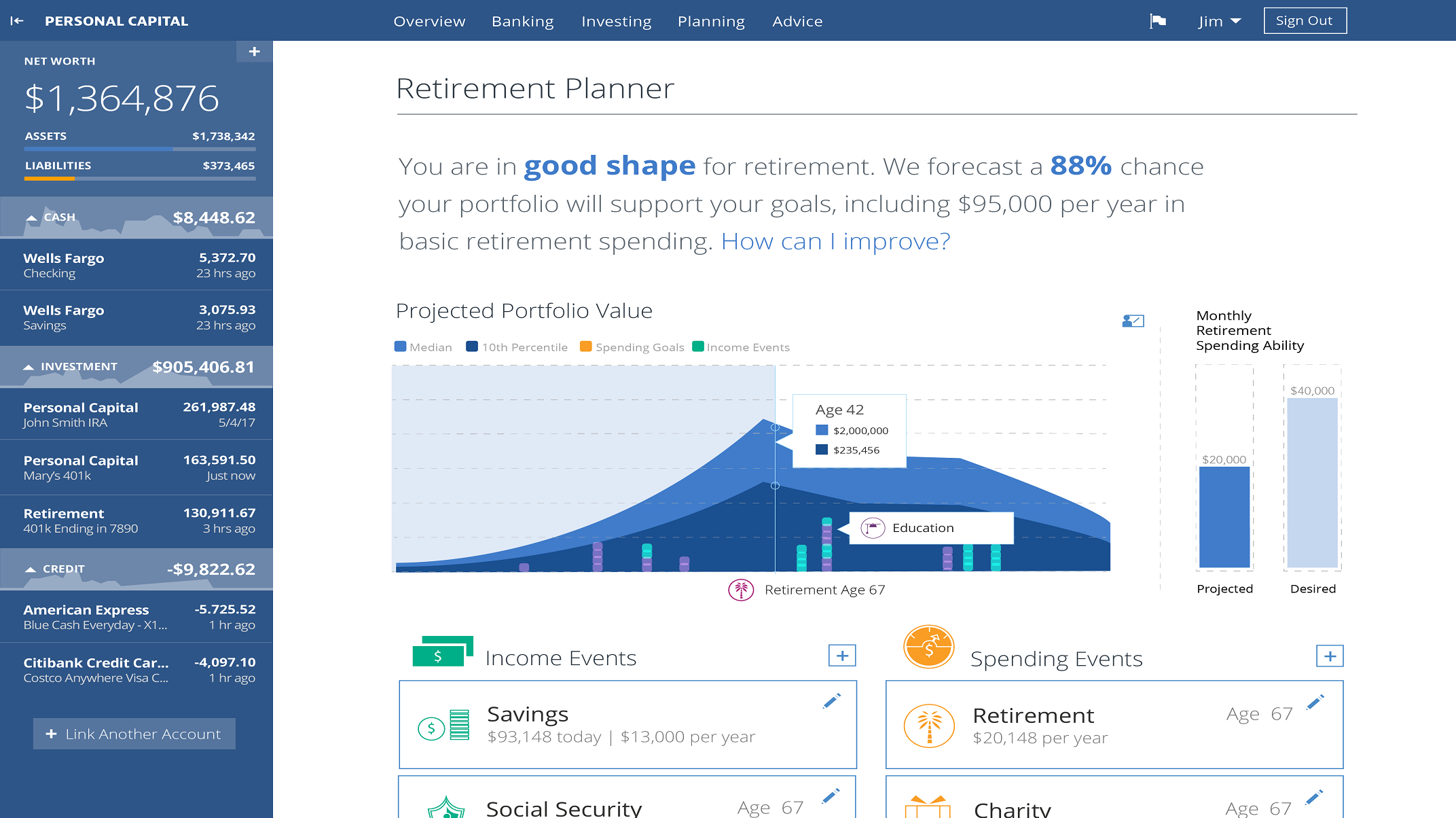 Savings Planner
The Savings Planner has three separate tools embedded within it to help you analyze whether or not you're saving enough money each year to meet your goals:
Retirement
Emergency Fund
Debt Paydown
Retirement
The Retirement analysis piece incorporates how much money you've contributed to your synced investment accounts. It then cross references this data with the retirement goals you've set and analyzes how likely it is for you to meet that goal given your current and previous rate of savings. You can also allow it to estimate different savings contribution rates that would provide you with a 50%, 70%, or 90% chance of success.
Emergency Fund
The Emergency Fund piece isn't the most specific in that Personal Capital simply sums the amount in all of your linked bank accounts and assumes that this is what constitutes your emergency fund. Most of us don't treat the entirety of our bank accounts (checking, savings, etc) as an emergency fund. So just keep that in mind when you're analyzing how accurate Personal's Capitals assessment is. You may also have other benefits through your employer that wouldn't be figured in.
Personal Capital also makes a judgement call on how much they think you should have saved in your emergency fund based on your current expenses, which may or may not reflect what you would need. For example, those daily Starbucks runs likely wouldn't be a necessary expense to figure into your emergency fund.
Debt Paydown
The Debt Paydown tool combines all of your linked debt accounts (credit cards, mortgages, loans, etc) and analyzes the change in balance over time. It also shows your remaining debt balance over a 90 day period. The data is displayed via transactions and also with a handy graphic. This particular section can be really helpful to discern the level of progress you're making to paydown debt, especially while making payments that may be divided between interest and principal.
Retirement Fee Analyzer
The Retirement Fee Analyzer is another pretty amazing tool in the Personal Capital toolbox. Here they pull in all of your current holdings and analyze the corresponding expense ratios and/or fees for each to calculate how much you're ultimately paying for each investment.
Then, using some assumptions (annual contributions, employer match, expected growth and additional investments – which can all be manually edited if you so wish) it extrapolates the calculations out to how much you could expect to pay over the lifetime of your investments.
They'll also assess your current fees to a reasonable benchmark so you can gauge where your costs fall on the spectrum.
This tool can be tremendously eye opening. Because what can seem like small percentages in fees and expense ratios can ultimately cost investors tens of thousands of dollars (or more) unnecessarily over their lifetimes. The earlier you know what you're paying, the earlier you can make changes and save yourself some real money over the long run.
Investment Checkup
The final tool in the Personal Capital toolbox is the Investment Checkup where they'll make recommendations on your portfolio makeup, allocation, and predicted alignment with your goals. It's important to take any recommendations with a grain of salt. No investment or strategy is guaranteed and all investment comes with risk. But Personal Capital will do it's best based on the information you put in and the data and algorithms available to make an appropriate assessment and provide you with relevant recommendations.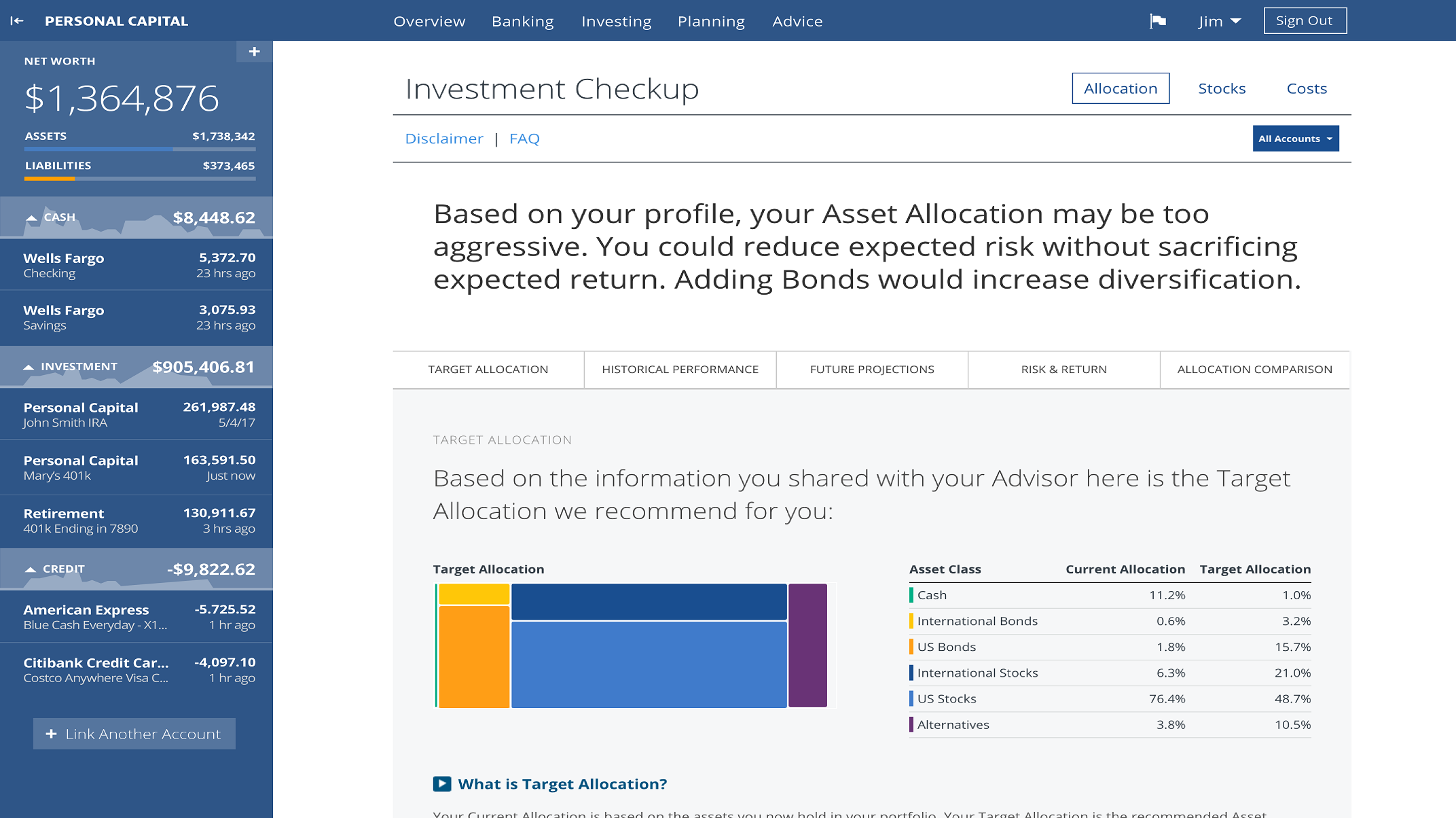 Personal Capital Overview
All the great free tools aside, below are some important topics to square away so you can feel confident about using Personal Capital's platform.
Is Personal Capital legitimate?
Yes, Personal Capital is legitimate. The company was founded in 2009 and has been registered and regulated by the SEC since that time. As of July 2021, they had over $20 billion in assets under management and over 3 million users.
Is Personal Capital safe?
Personal Capital takes safeguarding your financial data very seriously. They utilize multi-factor authentication, biometrics, multilayer data encryption, and consistently run security tests.
It's important to note that Personal Capital does not store your linked financial account passwords. Thus, even if a malicious actor gained access to your Personal Capital account, your personal data would still be protected. Personal Capital never sends the login credentials for your linked accounts to your browser. Instead, they're stored elsewhere and are only ever sent directly to your financial institution.
Is Personal Capital free?
Yes, Personal Capital is actually free. Signing up for an account is entirely free, along with all the amazing tools we described above.
The only time you'd pay for service is if you actually invest with Personal Capital by opening a new brokerage account. Depending on the specific type of account you open and how much you invest, you'll be responsible for paying a corresponding fee. But remember, you do not need to open a brokerage account in order to use all the free tools Personal Capital offers.
Does Personal Capital sell your data?
Personal Capital does not sell your data. They may make recommendations about their own products and services based on the information you provide them with (i.e. retirement goals), but they will not sell your data to other companies or service providers.
Personal Capital pros and cons
Pros
You'd be hard pressed to find another platform providing better, free tools to help you understand and analyze all your financial accounts in one place. Information is power. And while all of the recommendations and analysis should be evaluated carefully, it's an amazing (and did we say free?) powerhouse available at your fingertips.
Cons
Some financial institutions may have trouble linking and/or staying linked to Personal Capital. In practice, this means you may have to more frequently input verification codes to securely update Personal Capital's syncing of your accounts. But that's not necessarily a bad thing. There's always a tradeoff between security and ease of access.
Like what you read? Subscribe to our email list below!